Best Old Age Homes in Bangalore
Bangalore Care Takers is a Trademark (R) Registered Best Elder/All/Old Age CARE Provider in Bangalore.
The Bangalore Care Takers is providing a very good care for your loved ones. BCT's well experienced doctors are providing the best possible treatment to the inmates. We will take care of your loved ones in our state of the art facility or in your Home. Our main aim is to keep your loved ones at their most comfortable state. It's a home away from home.
As a Good Old Age Home Service provider in Bangalore we are able to respond quickly as possible to the needs of our senior residents, we are ready to care our elders by giving regular health checkups, assist with basic needs, monitoring medications, helps moving or transferring, help with personal hygiene and care, etc…
Patient's health/medical related details are well communicated to their respective person. Our experienced Old Age Home nurses are very much pleasing, helpful and supportive. We take care for your loved one, they can feel at ease. Bangalore Care Takers  Old Age  care home is the best choice for the people in Bangalore, who are looking for a best care for old/ Elder/senior people.
BCT provides comfortable, clean and hygienic boarding and lodging facilities with nursing and medical care. We have a 24 hrs medical facility including ambulance service. The doctors and nurses are highly experienced to take good care of inmates/patients. In Bangalore Care Takers (BCT), we have Doctors, Professional Nurses, Associate Nurses, Care Takers, Physical Therapists, Dietitians, Cook & Housekeepers to make sure quality with worth and mercifulness, continuity and safety while providing services. We provide Old Age Homes Services, Elderly care service, Home nursing care service, Palliative care service, dementia care, bedridden care, Paralysis Care, Parkinson's care, bedsore care, nursing care etc…
Bangalore Care Takers – A CARE HOME WITH FREE NURSING CARE to take care of all types of patients. This is an All/Old Age Care Home with medical facilities. It's a Senior Living / Retirement / Elderly Care / Geriatric Care / Old Age / MR-All Age Care Home facility. With hygienic, clean and neat surroundings, we provide a homely atmosphere and privacy, while maintaining an attitude of healthy life for our senior citizens.
We will take care of all types of patients,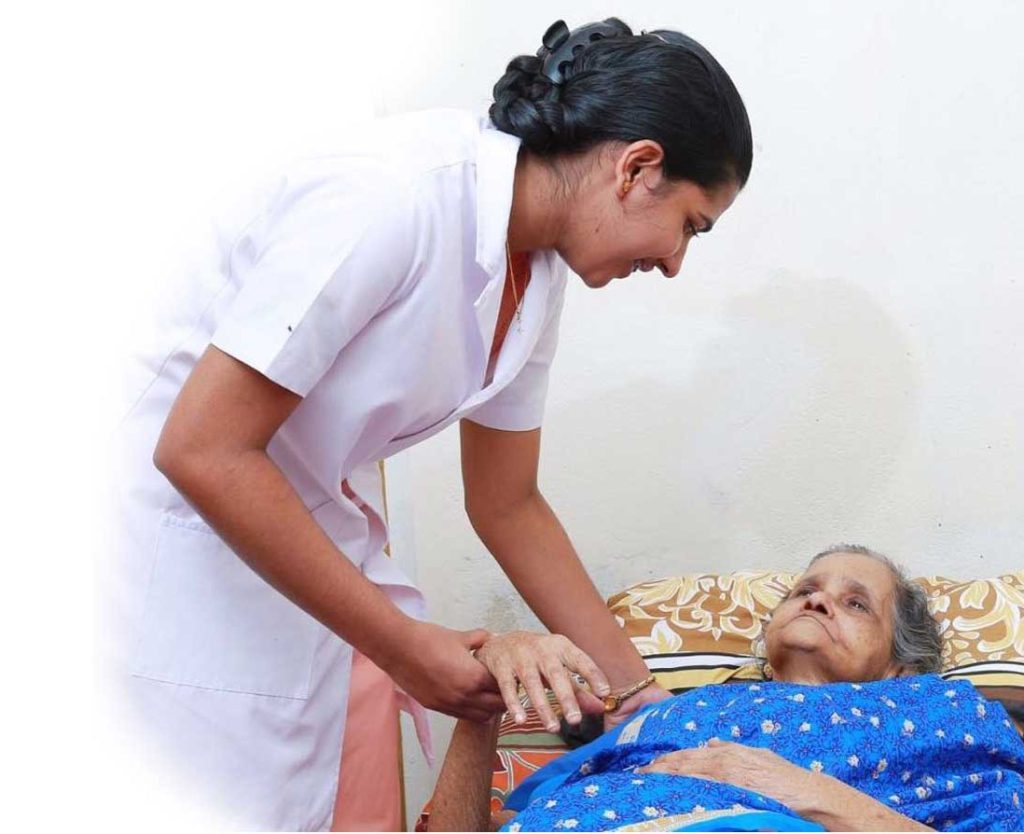 24/7 Nursing Care Home
Palliative Care
Post-Operative Care
Mentally Retarded Care
Wound Care/Diabetic Wound Care
Fluid management
Tracheostomy Care
Stoma Care
Ryle's Tube feeding/insertion
PEG feeding
Pain management
Bed-ridden Care
Counselling and support
Rehabilitation
Alzheimer's Care
Dementia Care
Parkinson's Care
Catheter Care
Colostomy Care
Respite Care
Oxygen Support
Stroke/Paralysis/Coma Care
Know more about our Services
Post-Surgery Care in Bangalore
Dementia Care in Bangalore
Palliative Care services in Bangalore
Old Age Homes in Bangalore